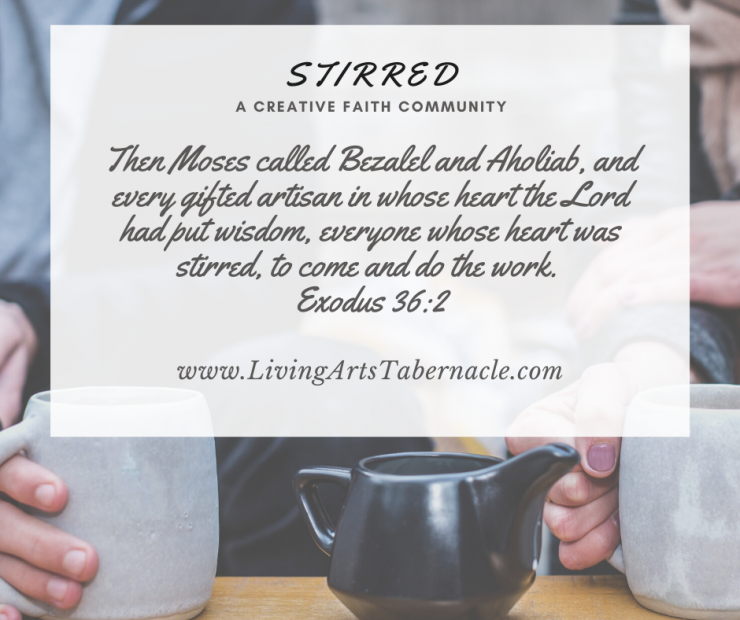 Are you a creative whose heart is stirred to serve the Creator with the gifts He gave you?
Welcome! Stirred is Living Arts Tabernacle's community and program for artists of faith who want to learn about their true identity, purpose, and potential as God's modern-day creatives. LAT is the artist division of Sensory Bible Experiences, a production ministry which creates life-giving events and resources.
Ready to go from God's creative to His mature artistic minister?
Do you want to be healed, rest, grow stronger and reach higher?
Learn. Commit. Train hard.
Discover and develop your artistic identity.
Living Arts Tabernacle
Be the offering.
Our foundational Scriptures:
Exodus 35:21 New King James Version (NKJV)
21 Then everyone came whose heart was stirred, and everyone whose spirit was willing, and they brought the Lord's offering for the work of the tabernacle of meeting, for all its service, and for the holy garments.
Exodus 35:31-33 New King James Version (NKJV)
31 and He has filled him with the Spirit of God, in wisdom and understanding, in knowledge and all manner of workmanship, 32 to design artistic works, to work in gold and silver and bronze, 33 in cutting jewels for setting, in carving wood, and to work in all manner of artistic workmanship.
I invite you to stay a while, take a look around. Feel free to send us your prayer requests, questions, suggestions, and thoughts.
Taking His direction,
Selah, Founder and Director
Living Arts Tabernacle, Sensory Bible Experiences
His Joy in the Word Party Starts Soon!

Joy seems hard to find these days, but few things can bring lasting joy like His Spirit working through His Word can. Simchat Torah isn't a social media platform to talk about Torah, it is an invitation to rejoice in the Torah (the first five books of the Bible: Genesis through Deuteronomy). On this holiday, most synagogues parade their Torah scrolls, and start the portion reading cycle anew. This year Simchat Torah begins at sundown tomorrow, Tuesday September 28th outside of Israel.
The Torah is the strong foundation for the rest of the Scriptures, and the Scarlet Cord of Yeshua's (Jesus') Person is woven through them from beginning to end, tying it and His plan for mankind together in Divine perfection. In Genesis He, the Living Word who transcends time, was in the beginning, the Covenant Maker, and is present now- He created the heavens and the earth and created you to have a relationship with Him by accepting His atonement as the Passover Lamb in the Gospels, all for salvation and a future together with you described in Revelation.

In Exodus, Leviticus (including His Chosen Times in Chapter 23 and 24) and Deuteronomy He gave His Commandments as loving guidelines for that relationship with Israel and any who want to be grafted into that relationship (Romans 11). Epic accounts, poems, narratives, prophecies, songs, wisdom, warnings and more spring to life off the page to bring us encouragement, hope, revelation, peace for the challenging times and wisdom to those who truly seek Him for it. May you receive and explore this in His Word, His precious gift and treasure, this year!

"1 In the beginning was the Word. The Word was with God, and the Word was God. 2 He was with God in the beginning. 3 All things were made through Him, and apart from Him nothing was made that has come into being. 4 In Him was life, and the life was the light of men. 5 The light shines in the darkness, and the darkness has not overpowered it." (1 John 1:1-5 TLV)

The ultimate reason to rejoice: the Living Word created us to have a relationship with Him- now that is an amazing sensory Bible experience!! If you haven't yet, leave behind what doesn't fulfill you, and invite Him into your heart to begin that relationship and receive His best for you. Please let us know of your decision with a contact form on www.SensoryBibleExperiences.com so we can suggest next steps and pray for you.

I hope you've enjoyed this little break from The Chosen Creative Netcast to learn a about His Fall Holidays. We now return you to your regularly scheduled series, hopefully with a fresh new interest to learn more about His Appointed Times so you can celebrate as the disciples did!
Download our free gift to you of the SBE 2021-2022 DIVE Guide and Planner by going to the Resources page.

Blessings to you and yours!

Selah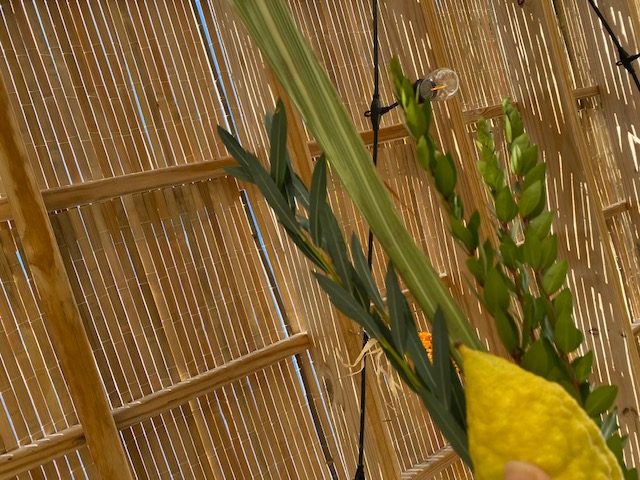 His Chosen Outdoor Feast Starts at Sundown on September 20th!

We get to gather into another Chosen Time, Sukkot (Booths/Tabernacles/Ingathering) to rest, to feast and to be grateful, to remember how He protected the nation of Israel as we lived in booths after the Exodus, and that He tabernacles with all believers - all great reasons to celebrate Him even during, or more importantly, especially during difficult times.
From Leviticus 23 Tree of Life Version (Also see verses 33-38):
39 "So on the fifteenth day of the seventh month, when you have gathered in the fruits of the land, you are to keep the Feast of Adonai for seven days. The first day is to be a Shabbat rest, and the eighth day will also be a Shabbat rest. 40 On the first day you are to take choice fruit of trees, branches of palm trees,[b] boughs of leafy trees, and willows of the brook, and rejoice before Adonai your God for seven days. 41 You are to celebrate it as a festival to Adonai for seven days in the year. It is a statute forever throughout your generations—you are to celebrate it in the seventh month. 42 You are to live in sukkot for seven days. All the native-born in Israel are to live in sukkot, 43 so that your generations may know that I had Bnei-Yisrael to dwell in sukkot when I brought them out of the land of Egypt. I am Adonai your God."
Download our free for personal use SBE 2021-2022 DIVE Guide and Planner to help you plan for His Chosen Times - go to the Resources Page!
Chag Sukkot Sameach! Have a good (and blessed) Sukkot Feast!
His Chosen Atonement Day started the night of September 15th, but thanks to His death on the cross, you can experience His Presence today! Just ask Him to forgive your bad choices, decide to live for Him, ask Him into your heart, accept His forgiveness, and let us know of your decision with a contact form so we can help guide you and pray fo you.
We interrupt this challenging and overwhelming life with a message of divine hope:
In a hurting world, He made the way…
He is the Way, The Truth and the Life.
Now more than ever…
reverent repentance to begin healing.
Our Passover Lamb, the Ultimate Sacrifice.
Our High Priest tore the veil.
Now more than ever…
This day, His way
Will pave the way
to a new day.
Ask Him to set your heart right.
Appear before Him, his Bride in white.
*Feast not on food, but on release from the evil one's bite.
Fall into peace and joy, not the plight.
Find forgiveness, find rest and light.
In your blindness, find new sight.
The holiest Biblical day of the year, Yom Kippur (the Day of Atonement) begins September 15th 2021 at sundown. It's His Chosen Day for introspection, reflection, repentance and prayer.
We're tuning into Him, and pray you will, too.
He will then return you to His divinely scheduled plan for your life.
- Selah, Founder and Director, Sensory Bible Experiences and Living Arts Tabernacle
*Follow your doctor's advice when it comes to a total fast. You can choose to fast from certain foods, social media, negative talk, etc.
Learn more from an insightful Yom Kippur teaching by Pastor Greg Stone.
--------------------------------------------
When you feel stirred to the discover your creative Kingdom calling, you can't help but sound His horn! I invite you to experience our Stirred Not Shaken podcast to help you get through the Co-Vid 19 challenges we face as artists - it's on the Stirred Community Page.
Greg "Torah Chef" Cornelius sounds the shofar at the close of Stirred Not Shaken, our first Stirred Community podcast! Other panelists include Rich and Joyce Swingle, Chelsea Landsee and LAT Founder and Director, Selah Cohen.
We invite you to enjoy our gift to you at this difficult time, Hidden: A Sensory Bible Audio Experience, available on www.SensoryBibleExperiences.com. We pray it blesses you, your friends, and your family
---