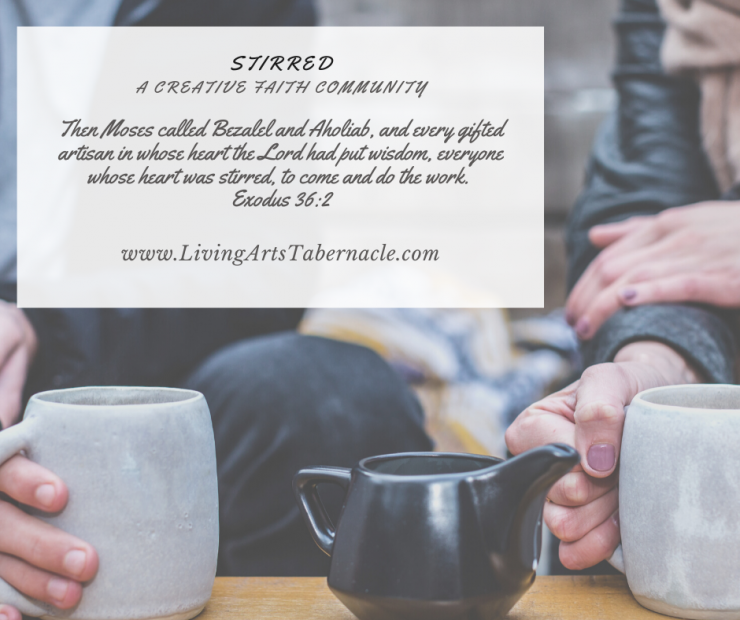 Are you a creative whose heart is stirred to serve the Creator with the gifts He gave you?
Welcome! Stirred is Living Arts Tabernacle's community, culture, and program for artists of faith who want to learn about their true identity, purpose, and potential as God's modern-day creatives. LAT is the artist division of Sensory Bible Experiences, a production ministry which creates life-giving events and resources.
Ready to go from God's creative to His mature artistic minister?
Do you want to grow stronger and reach higher?
Learn. Commit. Train hard.
Discover and develop your artistic identity.
Living Arts Tabernacle
Be the offering.
Our foundational Scriptures:
Exodus 35:21 New King James Version (NKJV)
21 Then everyone came whose heart was stirred, and everyone whose spirit was willing, and they brought the Lord's offering for the work of the tabernacle of meeting, for all its service, and for the holy garments.
Exodus 35:31-33 New King James Version (NKJV)
31 and He has filled him with the Spirit of God, in wisdom and understanding, in knowledge and all manner of workmanship, 32 to design artistic works, to work in gold and silver and bronze, 33 in cutting jewels for setting, in carving wood, and to work in all manner of artistic workmanship.
Take a look at around and connect with us. I look forward to getting to know you.
Taking His direction,
Selah Cohen, Founder and Director
Cast, Crew, and Other Talent
We are always looking for experienced creatives of integrity who want to serve the L-rd with the gifts they have received from Him. Non-union or able to work non-union projects. More information on www.SensoryBibleExperiences.com Work with Us page. Please email your medium-sized JPEG head shot, one page resume with contact information, and 3 to 5 minute audio demo/video reel or links as well as any questions.
Assistant to the Director, other assistants.
Video producer and editor (Final Cut Pro)
Electronic music composer and editor (Logic Pro X), cinematic and musical theater styles
Actors, singers, musicians, and other experienced performance talent.
Voiceover and narrator baritone and bass for Bible narration and voice of God (new approach, not old movie style).
Founder and Director, Selah Cohen invites you to listen to an encouraging message.
Passover begins Wednesday night April 8th, 2020. This Torah portion is from a previous week.
Torah Portion Site: https://torahportions.ffoz.org/
Episode 1 - Passover Hope During a Pandemic Plague
Episode 2 - Passover Hope during a Pandemic Plague
Episode 3 - Legacy of the Covenant Sereis Book One Teaser: The Pearl of Promise by Selah Cohen
To hear the rest of this series, please go to our production site below.
OUR GIFT TO YOU AT THIS DIFFICULT TIME
We invite you to enjoy our gift to you at this difficult time, Hidden: A Sensory Bible Audio Experience, available on www.SensoryBibleExperiences.com. We pray it blesses you, your friends, and your family
---