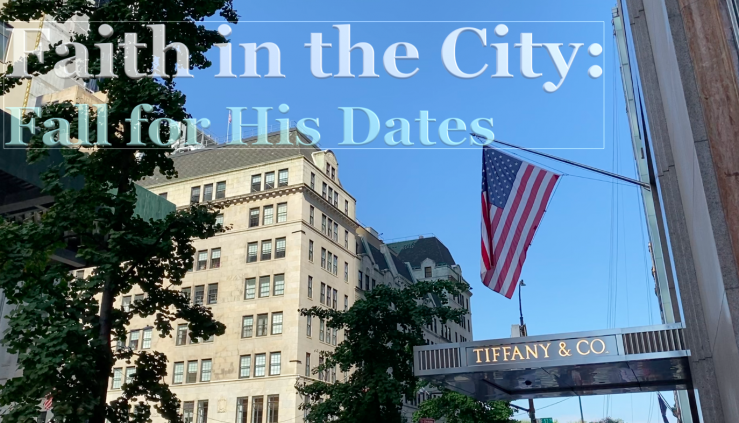 Faith in the City: Fall for His Dates Atoned Bride at Tiffany and Co.
A Faith in the City: Fall for His Dates Series Audio Podcast
The Day of Atonement or Yom Kippur is a very sacred time of instrospection before our Lord and Bridegroom who paid for our forgiveness with His precious blood so we it could be atoned for and we could be forgiven and enjoy restored relationship with Him!
Customs and Traditions
Mkveh or water immersion before services to change one's status and prepare spiritually.
Refrain from all regular work. Fast or partial fast of food and water or something else in order to focus on Him. Repentance of sins from past and for future year. Introspective, focused, reverent demeanor. Wear white to represent our own mortality and help us focus on purity. For those who believe in Yeshua (Jesus) as Messiah, we also wear white as His collective Bride.
Leviticus 16:2-32 New King James Version
2 and the Lord said to Moses: "Tell Aaron your brother not to come at just any time into the Holy Place inside the veil, before the mercy seat which is on the ark, lest he die; for I will appear in the cloud above the mercy seat....29 "This shall be a statute forever for you: In the seventh month, on the tenth day of the month, you shall afflict your souls, and do no work at all, whether a native of your own country or a stranger who dwells among you. 30 For on that day the priest shall make atonement for you, to cleanse you, that you may be clean from all your sins before the Lord. 31 It is a sabbath of solemn rest for you, and you shall afflict your souls. It is a statute forever. 32 And the priest, who is anointed and consecrated to minister as priest in his father's place, shall make atonement, and put on the linen clothes, the holy garments; 33 then he shall make atonement for the Holy Sanctuary, and he shall make atonement for the tabernacle of meeting and for the altar, and he shall make atonement for the priests and for all the people of the assembly. 34 This shall be an everlasting statute for you, to make atonement for the children of Israel, for all their sins, once a year." And he did as the Lord commanded Moses.
Hebrews 9:24-26 New King James Version (NKJV)
24 For Christ has not entered the holy places made with hands, which are [a]copies of the true, but into heaven itself, now to appear in the presence of God for us; 25 not that He should offer Himself often, as the high priest enters the Most Holy Place every year with blood of another— 26 He then would have had to suffer often since the foundation of the world; but now, once at the end of the ages, He has appeared to put away sin by the sacrifice of Himself.
Hebrews 4:13-15 New King James Version (NKJV)
13 And there is no creature hidden from His sight, but all things are naked and open to the eyes of Him to whom we must give account. 14 Seeing then that we have a great High Priest who has passed through the heavens, Jesus the Son of God, let us hold fast our confession. 15 For we do not have a High Priest who cannot sympathize with our weaknesses, but was in all points tempted as we are, yet without sin.
Ephesians 2:12-14 New King James Version (NKJV)
12 that at that time you were without Christ, being aliens from the commonwealth of Israel and strangers from the covenants of promise, having no hope and without God in the world. 13 But now in Christ Jesus you who once were far off have been brought near by the blood of Christ. 14 For He Himself is our peace, who has made both one, and has broken down the middle wall of separation,
Isaiah 61:10
I will greatly rejoice in the Lord, My soul shall be joyful in my God; For He has clothed me with the garments of salvation, He has covered me with the robe of righteousness, As a bridegroom decks himself with ornaments, And as a bride adorns herself with her jewels.
Please enjoy the next audio episode in the series: The Prieceless Diamond and Pearl of Great Price!
- Selah Cohen, Founder and Director of Living Arts Tabernacle
---